Are you ready to learn from a REAL person who genuinely wants to help you? Are you sick of being the "Captain of The Struggle Bus" ?
Not to mention working with all the GURU'S?!
If that was a YES then keep reading below!
At this point I figure you have read who I am, how I got here, what I have gone through in a "nutshell" and my intentions on where I am heading; or maybe you haven't. If that's the case well then here is the story!
Hello!
My name is Lela Crawford-Benson. In a nutshell I am a wife, homeschool mom of four, entrepreneur, CEO and Founder of Elite RED Media (Previously Rooted Sparrow Creative), Host of Just Talk Tech, Mentor, Speaker, avid travel lover, eternal learner and Doctoral Student, focusing in Innovation and Leadership in Technology at Purdue University.
However, as most of us know we don't just end up at the result we want. Our journey is often long, tiring, transformative and evolutionary as we continue to grow. So here is a taste of my journey for you! I have loved the creatives since before I can remember. My love blossomed in the figure skating world at the age of two where I spent 17 years training in ice rinks around the United States and even Internationally. During my breaks, I spent a lot of time reading, writing, designing, and drawing. After a heartbreaking retirement due to three hip surgeries and a back fusion, I had to go back to my roots and figure out what it was that I wanted to do with the rest of my life. I had to redefine what it meant to find my "happy" again. I quickly found myself right back in the creatives reading, writing, and mostly designing. After taking a class at the Art Institute in photography I thought "what a great way to create and make money" and that was how my business began and
bloomed. A year of shooting and falling in love with the backend part of shooting, the editing, I saw a new passion birth itself and pursued a Bachelors of Science with a focus in Design. When I graduated I had two littles, a part-time photography and design business went through a marriage and a divorce and was freelancing for an advertising agency. So when was Rooted Sparrow born? God was so good to me in my times of transition and brought my incredible husband into my life who is apart of the Rooted Sparrow Creative team. He pushed me to stop toe-dipping and go in 100% about 4 years ago. Through that commitment I rebranded my business, soon after opened a studio space where we were for a year and a half, before now working 100% remotely with clients and colleagues on marketing, web design, graphic design, business strategy, and more all over the globe taking our business international. I graduated with my Master's Degree in Industrial-Organizational Psychology in the Fall of 2018. I have had the pleasure of creating and launching The Fox & Wolf Talk Show & Business By Design Academy with one of my absolute favorite humans and business colleagues Guna Meldere. I have been honored to be a panelist and speaker for Facebook Boost Your Business Event in 2017, as well as featured podcast guest on various podcasts, small group trainer, and most recently receiving the honor of being apart of 2019's Michiana 40 Under 40. It has been a beautiful journey thus far and I so look forward to the continued growth as time continues to go on. Thank you for taking the time to learn more about me. I cannot wait to learn more about you, your vision, your goals, and encourage you in your own journey!
HAVE AN AMAZING CONCEPT?
Sadly, its stuck in your head and you just cannot seem to figure out how to take it into action? Being stuck in concept mode can be an extremely hard space to break out of and the more you research the more you get stuck in ANALYSIS PARALYSIS? Been there, done that, it SUCKS
TRYING TO CREATE YOUR VISION?
Creating your vision is literally the most exciting and rewarding thing to see as you breathe life into this incredible idea of yours whether new or old….or at least that's how its supposed to go, right!? Unfortunately, for most of waking up one morning and magically knowing how to build a BRAND that is timeless, creating a customer avatar, building a website, systemizing your business, building a marketing strategy, maintaining our sanity, and understanding how to LAUNCH keeps us frustrated, and 100% STUCK
READY TO CAPITALIZE?
Maybe you have figured out and finalized your concept, you have worked to build your brand, you've identified all the details about your customer avatar, you know where they shop, where they vacation (if they vacation), how many kids they have, and where they eat? Your website is amazing, your visuals are awesome, and yet you have yet to make ONE.SINGLE.SALE? or maintain the very few you have had to even break EVEN. So incredibly frustrating….The world of selling is not what it once was. It's time to learn the psychology behind connecting with your clients, the strategies behind reaching your audience, the power of systemization and outsourcing, and the true ability to capitalize in your life (and I don't just mean money friends)
Regardless of which of THREE stages (or sub-stages) you're in there is nothing more frustrating than the frustration of feeling STUCK!
I GET IT. I UNDERSTAND WHERE YOU ARE. I HAVE BEEN THERE.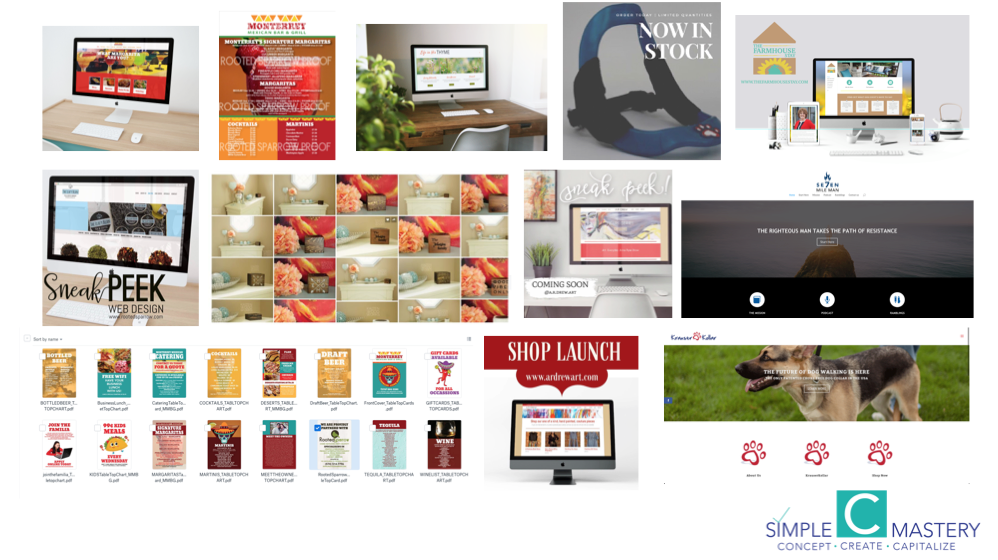 The reason this MENTORSHIP was born?
So many of my clients that come in the door have literally wasted thousands of dollars in the wrong places, on the wrong things, received terrible results, and are incredibly frustrated and upset by the time they come to me. Many of them have been stuck in the process of having to work to figure it all out alone and are at a total breaking point.
I want this to STOP. I want people to have access to doing it the RIGHT way. I want people to know how to start off on the RIGHT foot from the get-go! or if they have fallen down be able to hop back up, dust themselves off and start again I want you to truly share your message, your vision, your product or service with the world and let's face it, I want you to achieve your GOALS and keep growing further!
WHAT ARE YOU GOING TO DO IN A 1-TO-1 MENTORSHIP WITH ME?
I will be completely honest with you, I had serious hesitations when it came to offering my soon to be released course as a customizable mentorship program prior to the big independent launch in the future, but with so many incredible people asking if I would be willing to work with them in these various areas with a customized experience I decided that I would make the decision to do so. I am not someone to claim GURU status or to label myself as some sort of coaching expert because that is just not how I identify. I eternally remain the student because I feel the moment we claim that status is the moment we stop learning, pushing and growing. I am, however, someone who has worked hard to build a business over the past 7 years that I am proud of and my "learnings" are reflective within the areas you see below all of which are customized in segments for you and your business when working one-to-one with me.
Eight Incredible Customizable/Segmented Modules to Equip you with the TOOLS you need to level up your business if you are willing to put in the work to do so! I will only take on a limited amount of people to work with me one-to-one on a quarterly basis. You will get to meet with me via zoom weekly and bi-weekly over 90 days to work through action steps that we build and customize with your growth at the forefront.
MINDSET
We have to get our minds right to get our business right. We are going to focus in depth on how to keep ourselves motivated, goal oriented, and creating our visions, as well as discuss what to do when we face opposition from those closest to us.
BIZ LAUNCHPAD
Imagine your house built without a foundation, it wouldn't last long would it? Well the same goes for your business. We need to make sure that you have a solid foundation as a base for your business registering your business, to obtaining your EIN, purchasing your domain and more.
BRANDING
Branding is NOT a logo and some fonts placed together and slapped on your makeshift website. Branding is your story, your mission, your purpose all encompassed into how the world perceives you. Brand styling is that visual identity built to reflect your personal brand. We are going to discuss the steps it takes to make this happen and fit all the pieces of the puzzle together right!
SOCIAL MEDIA
What platform should you be using it, why, when, and how? The world of social media continues to evolve on a daily basis making it confusing to figure out how you fit in to it and how you can leverage it for your own personal brand and business. We are going to dive into this topic & guide you through this process.
STORYTELLING
Relaying your message to your audience through storytelling is a very powerful tool to utilize in gaining your following and targeting your ideal audiences. We are going to discuss the "how-to's" of effective blogging practices and storying telling across multiple platforms and implementation tactics you can use.
EMAIL MARKETING
The power of email is incredible if you know how to use it and leverage it the RIGHT way. Otherwise, you have a whole list of people's emails that are completely unengaged with your message and content. We are going to learn how to implement different strategies into your campaigns and the effectiveness of each in relation to your goals.
NETWORKING
Who are you surrounding yourself with? Networking is a KEY factor into gaining an audience and leveraging those connections for future leads and growth. It is also essential in gaining incredible testimonials, learning from those around you, and leveling up your own mind and goals.
MASTERING SUCCESS
Whats the point of learning all of these details if we don't understand how to continuously implement them? Now that we have all the groundwork laid its time to learn what it takes on a daily basis to implement all the strategies we have learned and truly capitalize from these strategies. We are going to explore different workflows and systems to keep you moving forward and how truly master success in your business.
WE WILL WORK TO IDENTIFY WHERE YOU ARE AT IN THE STEPS ABOVE, WHAT AREAS YOU NEED TO BUILD ON, AND CREATE A GROWTH STRATEGY FOR YOU
If you are ready to take the next step to fill out the application by following the button below. Once your application is received we will be in touch to schedule a call with you